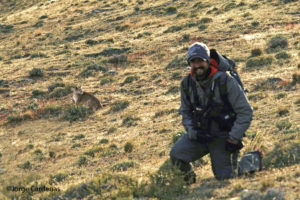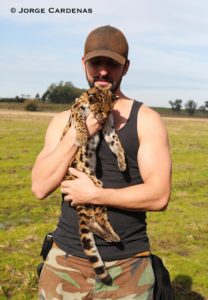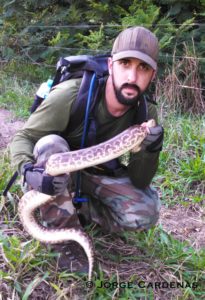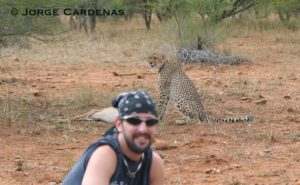 Wildcat Expeditions is a collective of local guides (depending on each location) that are hand picked by owner Jorge Cardenas for their extensive knowledge and excellent hosting and guiding abilities.
Our History
Jorge Cardenas is a biologist, naturalist guide, and tracker, who upon finishing university delved into the wild to follow his passion and love for the big cats.
His adventure began in Africa where volunteered for various research programs and later became a Level 1 safari guide registered in the Field Guide Association of South Africa (FGASA). He also began to develop the tracking experience that has become one of his signature skills.
Upon returning to the US he formulated his plan to see all of the world's cats. This led him on a journey to South America, where he joined with a research group conducting Jaguar research. This helped him identify one of the best locations in the world to see Jaguars.
As one of the lead researchers for this group, he was given the opportunity to scout a location in Chile, in one of the only places in the world Pumas (Cougars) can be seen regularly. This expedition, through the tutelage of local trackers, refined and matured his tracking skills enabling him to guarantee Puma sightings for his clients, in Chile.
He has since been using his training and the help of local guides to locate cats all around the world (like Snow Leopards, in India). He has also turned his sights to smaller, more elusive species, and has found locations to observe these magnificent cats, like Geoffroyi's cat, Margay, Ocelot, and others!
Every year Jorge scouts and tracks cats in different locations to provide the best opportunity to see some of these cryptic but beautiful species. So please browse through our current tours and feel free to contact us for updates on any new locations and species. We look forward to hearing from you and having you join us for your trip of a lifetime!